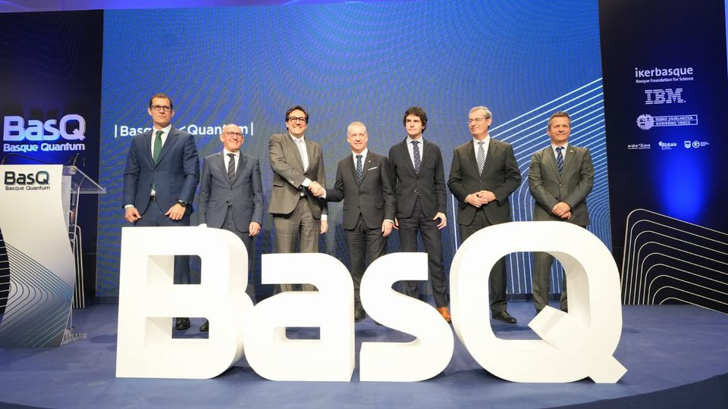 The Lehendakari Iñigo Urkullu, together with the general deputies of Araba, Bizkaia and Gipuzkoa, the Minister of Education Jokin Bildarratz, and heads of IBM, presided over the presentation ceremony of the Basque Quantum alliance. The project, promoted by the Basque Government, the three provincial councils and IBM, will develop a quantum technology research center in the Basque Country. In this way, the Basque Country will host the IBM Quantum System One computer, the sixth quantum supercomputer in the world, linked to an international network promoted by IBM. It joins the United States, Germany, Japan, Canada and South Korea. The act was also attended by the directors Pedro Azpiazu, Arantxa Tapia, Gotzone Sagardui and Olatz Garamendi.
During the event, the institutional representatives and those responsible for IBM highlighted an agreement that the project will allow the Basque Country to lead research worldwide in one of the most strategic scientific fields.
The agreement, signed last week between IBM and the Ikerbasque Foundation, contemplates an investment of 50.8 million euros, an amount contributed to Ikerbasque through the Department of Education of the Basque Government. To this investment must be added other contributions promoted by the Provincial Councils aimed at supporting research projects, as well as the construction of some infrastructures -which are already being developed-, in order to respond to research needs. In total, the Basque Quantum project foresees a direct investment of more than 120 million euros until 2028. Among the most notable actions:
New Ikerbasque center;
New DIPC center;
New research laboratories;
IBM-Basque Quantum Center;
Program to attract international research projects and centers;
Reinforcement of educational and talent attraction programs;
Promotion of public and private innovation associated with quantum in Southern Europe.
Basque Quantum objectives
The alliance between the Basque institutions and IBM seeks to promote technologies that present a potential that is difficult to limit today. Located in the future Ikerbasque building, the IBM-Euskadi Quantum Computational Center will be the epicenter of the project's research action.
Even before it was put into operation, the alliance between the Basque Country and IBM has led to the consolidation of the prestige that the Basque Country has on the international scientific scene. Considered a Region of High Innovation by the European Union and a Pole of Excellence, the high qualification of its scientists has consolidated the Basque Country as a solid partner with high innovative value. The Basque Quantum project seeks to consolidate this prestige, and show itself to the international scene as a solid and reliable partner. In addition, the promotion of quantum technologies will make it possible to generate a pool of research professionals who will lead this field.
Likewise, the scientific project also seeks to generate wealth, both in terms of knowledge and the creation and promotion of industries in the Basque Country. It is a priority objective to be able to coordinate efforts of the public-private sectors to generate new opportunities, for the benefit of society as a whole.
To view the recording of the event: