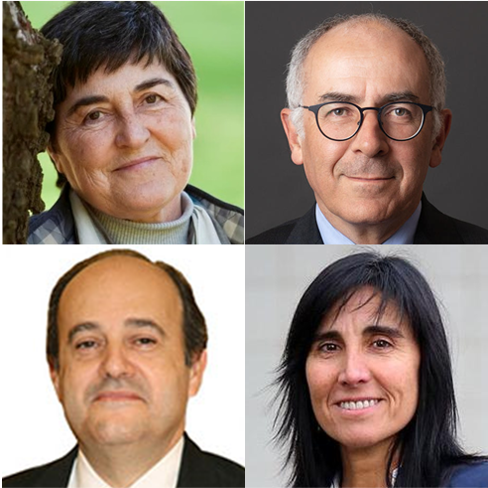 The Ikerbasque governing board met on November 23, 2021 with the presence of its President and Minister of Education of the Basque Government, Mr. Jokin Bildarratz. At this meeting, the Board of the Foundation approved the appointment of the new patrons who will replace Juan José Álvarez Rubio, Jasone Cenoz, Jean Michel Uhaldeborde and José Félix Martí Massó, to whom Ikerbasasque expresses its gratitude for their excellent work done.
The people who have joined the Ikerbasque Board of Trustees are:
Maribel Arriortua
A pioneer in research on multifunctional systems that can have various applications in the field of the environment or energy, she was the first full professor of Crystallography and Mineralogy at the UPV/EHU, trained at the University itself and a professor since 1992, being one of the first women to obtain a chair at the UPV/EHU.
Professor Arriortua created the IMaCris/MaKrisI research group and has pioneered research on multifunctional systems with applications in the environment and energy fields.
In 2010 she received the Euskadi Research Award in the Science and Technology category.
Nekane Balluerka
Graduate and PhD in Psychology from the UPV/EHU, currently professor of methodology of behavioral sciences at the Faculty of Psychology of the UPV/EHU.
She was rector of the UPV/EHU between 2017 and 2021.
Her lines of research focus on the methodology for the intercultural development and adaptation of psychological assessment instruments and on the application of multilevel analysis models to the study of psychosocial phenomena. She is the leader of the Qualiker research group.
José Luis Iriarte
Doctor of Law from the Autonomous University of Madrid, he is currently Professor of Private International Law at the Public University of Navarra and the Jean Monnet Chair of the European Union.
He was Vice-Rector for European Convergence and Institutional Relations at the Public University of Navarra.
He has focused his research on areas such as international commercial arbitration, immigration, internal conflicts in the Spanish system, international aspects of succession, the international employment contract or international judicial jurisdiction.
José Manuel Tuñón de Lara
Doctor and PhD of life sciences from the Paris Descartes University and the Institut Pasteur, he is currently Professor of Medicine at the University of Bordeaux.
He has been rector of the University of Bordeaux since 2014 and President of the Conference of Rectors of Universities of France since 2020.
Renowned specialist in the fields of asthma and allergies, he develops his research activities on the mechanisms of bronchial hyperresponsiveness. He also develops clinical activity at the University Hospital of Bordeaux within the department of respiratory diseases which he leads.
For more information about the Ikerbasque governing board: https://www.ikerbasque.net/en/about-us/governing-board